Shaping a Performance Culture
Do you want to build performance culture skills? This is the perfect course for leaders looking to develop their leadership abilities.

Who will benefit from this course?
This course is useful for individuals in middle management or senior management responsible for the performance of large number of people or teams.
What will you learn through this course?
This course will you learn to translate the institution objectives in to team and individual performances. You will uncover the ingredients to enable performance and learn to deploy them to help you release superior performance in your people.
Approach to the Course
Through this course you will see performance from the big picture of the institution and then learn breaking it down the institution objectives to teams and individual level performance goals. The course will help you learn the resources you need to enable this process.
You will learn to skin performance to get to the various drivers that enable it. The course offers detailed understanding on each of these drivers and the nuances to it. It will also help you learn the practical application of each of these drivers to effectively deploy it to release superior performance in your people.
You will gain awareness of your own orientation to Leading People Performance and learn the approach to drive a culture.
The course concludes with leadership experiences with some of these drivers to leading people performance and building a performance culture to help you connect the concepts learnt to practice.
How is the learning structured?
This course is designed to help you uncover the dimensions mentioned above by breaking it down to learning units that are bite size and easy to consume. It is structured to help you understand the content, learn its application and reflect on your behaviour relating to it. It offers a structure to skills practice to continue beyond the course as well.
The content is structured for you to absorb, internalise, reflect, be self-aware and practice building skill in that unit of content before proceeding to the next. We recommend you learn by spending time observing, reflecting and drawing deeper insights from your environment and watching others relating to the content as well. As you progress reflect and identify the areas you want to develop and practice skills beyond the course.
Deep involvement in each unit of content before moving to the next will heighten your learning experience of the program.
Learning components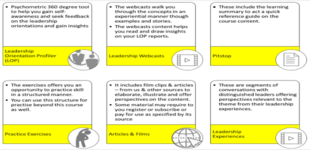 Course content
(Total 10 Sections)
Section 1 (Understanding Performance and its Drivers)
1.

Measuring and Managing Performance

Webcast

Time : 20 min

Watch this video by Mr. K Ramkumar to understand measuring and managing performance.

2.

Performance and Drivers to Performance

Webcast

Time : 17 min

What is Performance? What are the drivers of performance? How are they different at the individual level v/s institution level? Watch this webcast for a compelling conversation on this topic between Mr. Muralidharan and Mrs. Aparna Nair.
Webcast

Time : 1 hr 4 min

This webcast focuses on the theme of motivation from the lens of a manager of managers. Watch this webcast to understand how to handle the motivation challenges faced by these leaders who handle a diverse set of people.

2.

Concepts on Motivation

Supplementary Learning Resource

Time : 2 min

This is used for Motivation Session
Section 3 (Connect between Ability and Learning to Performance)
1.

Learning and Ability - link to Performance

Webcast

Time : 31 min

What is the role of my ability in driving performance? How much does my learning impact the effectiveness? Watch this discussion between Mr. Muralidharan and Mrs. Aparna Nair for this engaging conversation on the topic.

Webcast

Time : 26 min

What does learning mean to you as you grow up the corporate ladder? What is the impact for manager of managers? How can I help my team learn and grow? Watch Mrs. Aparna Nair, Practice Head, Leadership Development at Leadership Centre share her insights.

Supplementary Learning Resource

Time : 5 min

This document contains a highlight of the points of discussion from the learning session
Section 4 (Building People Capabilities)
Webcast

Time : 29 min

Watch this webcast to understand the leadership ability of nurturance. In order to build organisations, It is extremely essential you focus on this aspect of leadership.

Webcast

Time : 4 min

This video on Nurturance is based on PV Sindhu's journey under the tough nurturance and guidance of her coach P. Gopichand. The video starts with her 'hating' her coach for the hard training and ends with her becoming the World Badminton Champion.
Section 5 (Building Process Capabilities)
1.

Translating strategy into Operational Plans

Webcast

Time : 39 min

Watch Mr. K Ramkumar and Mrs. Aparna Nair shed light onto the area of converting your strategy into actions. This webcast gives clarity for you to translate strategy into operational plans.

Webcast

Time : 1 hr 4 min

Information processing is a key trait for the manager of managers. Develop analytical thinking ability in order to have clarity in handling difficult and challenging situations. Watch Mr. K Ramkumar, Founder, Leadership Centre share his insights on this theme.

3.

McDonald Speedee System

Webcast

Time : 11 min

McDonald Speedee System
Section 6 (Reviews – A tool to Lead and Manage Performance)
Webcast

Time : 19 min

How do you conduct an effective review? What are the steps involved to ensure that your reviews are efficient? Watch this webcast with Mrs. Diju Shali Dangwal, Practice Head, Leadership Online at Leadership Centre to gain insights from her experience.

2.

Handouts on Conducting Reviews

Supplementary Learning Resource

Time : 2 min

This document will help you understand what is a review? and how you can structure a review ?
Section 7 (Leveraging Beyond Your Boundaries to Ensure Performance)
1.

Leveraging Effectiveness

Webcast

Time : 1 hr 1 min

What is leverage? How do I leverage to increase performance for myself and my team? How do start with incorporating this for me? If these are some questions that you seek answers to, this is the webcast for you. Watch Mr. Muralidharan and Mrs. Aparna Nair discuss the topic of Leveraging to bring in effectiveness and increase performance.
Section 8 (Driving a Performance Culture)
Profiler

Time : 10 min

There are 15 sets of statements. Each set has 3 statements. You have 5 points to allocate amongst the 3 statements, in each set. Please do not spend too much time on any question

2.

Leadership Ability - Driving a Culture

Webcast

Time : 45 min

Do institutions shape culture or do individuals? In this podcast we examine why shaping a culture is a prime function of leadership.What is culture? What is the primary function of culture? What does it provide? How does culture get formed, reinforced, propagated, or built up? What are the dimensions of culture? How do you protect, shape, or transform culture?
1.

In Conversation with Mr. K. V. Kamath, Part 1- Development and Nurturance

Webcast

Time : 21 min

Watch and listen to Mr. K.V. Kamath bring out simple yet powerful lessons on development of self and nurturance by a Leader. This podcast will help you understand the mind of Mr. Kamath as a young manager and the lessons that shaped him as a leader.Learn from Mr. Kamath as he breaks myths around nurturance and shares what it means to nurture others.

2.

In Conversation with Santrupt Misra on Nurturance

Webcast

Time : 15 min

This conversation will help you to understand the different nuances of Nurturance. Nurturing is more than the soft & sensitive process. Challenge, testing, competitiveness and hard confrontation are important attributes of Nurturance.
1.

Sourav Ganguly Press Conference

Webcast

Time : 12 min

Sourav Ganguly Press Conference
Course Preview & Inclusions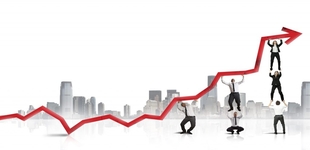 8 hr 17 min

20 learning Resources

Self-paced learning

1 profiling tools

7 hr 58 min of video content

3 supplementary learning resources

Access on Mobile and Laptop
Our Leadership Courses are structured packages which are targeted towards building your leadership abilities.
Add to My Membership Plan
Product once added cannot be removed/replaced.
Do you want to proceed?