Making sense of Analytics and Problem Solving
Do you want to build problem solving skills? This is the perfect course for leaders looking to develop their leadership abilities.

Who will benefit from this course?
You will find this course useful if you are required to build, manage and trouble shoot on processes, or organise and manage people's work and solve problems.
What will you learn through this course?
Through this course you will understand the way you think and what is required to think analytically. You will learn a structured approach to Problem solving.
Approach to the Course
Your ability to think analytically is dependent on your thinking resources. This course will take you through the various thinking resources and the value each brings in. You will get an opportunity to reflect and gain insight on your thinking orientation. Orientations are characteristics or traits. This course will help you learn to apply analytical thinking on a wide range of applications.
Approach to problem solving requires you to draw on the thinking of others and understand the meaning they make of the data which is referred to as perspectives. You will learn the value of engaging a variety of perspectives.
This understanding of thinking and working with perspectives is brought into a structured approach to solving problems in a simple and practical manner.
You will conclude this course with reflecting on experiences from live problem-solving situations.
How is the learning structured?
This course is designed to help you uncover the dimensions mentioned above by breaking it down to learning units that are bite size and easy to consume. It is structured to help you understand the content, learn its application and reflect on your behaviour relating to it. It offers a structure to skills practice to continue beyond the course as well.
The content is structured for you to absorb, internalise, reflect, be self-aware and practice building skill in that unit of content before proceeding to the next. We recommend you learn by spending time observing, reflecting and drawing deeper insights from your environment and watching others relating to the content as well. As you progress reflect and identify the areas you want to develop and practice skills beyond the course.
Deep involvement in each unit of content before moving to the next will heighten your learning experience of the program.
Learning components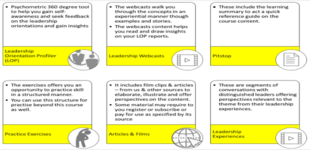 Course content
(Total 5 Sections)
Section 1 (Our Thinking process)
Profiler

Time : 10 min

2.

Human Thinking Process

Webcast

Time : 31 min

In this webcast by Mr. K Ramkumar focuses on the theme of thinking. Watch him share insights based on his experience to help you build your leadership ability.

Supplementary Learning Resource

Time : 3 min

This document contains a highlight of the points of discussion from the thinking session

4.

How to read your Profiler Report

Webcast

Time : 59 min

This webcast guides you and helps you gain clarity to read your Profiler report.
Section 2 (Diving deep into Analytical Thinking)
Webcast

Time : 1 hr 4 min

Information processing is a key trait for the manager of managers. Develop analytical thinking ability in order to have clarity in handling difficult and challenging situations. Watch Mr. K Ramkumar, Founder, Leadership Centre share his insights on this theme.

2.

Handouts on Analytical Thinking

Supplementary Learning Resource

Time : 5 min

This file was used in Analytical Session
Section 3 (Learning to Draw on Perspectives)
1.

Leadership Orientation - Perspectives

Webcast

Time : 23 min

Can miracles happen? In this podcast we explore how perspectives, while exercising leadership along with trust and power, can create magic.

2.

Concepts on Perspectives

Supplementary Learning Resource

Time : 2 min

This document contains a highlight of the points of discussion from the perspectives session
Section 4 (A Structured Approach to solving problems)
Webcast

Time : 32 min

How do you tackle problems? Is there a method to this madness? Is there a structure you can follow for effective problem-solving? Watch this webcast for more insights to know how you can deal with this aspect of leadership with Mr. Muralidharan Rajamani, Practice Head, Leadership Development.
Section 5 (Learning from Experience)
1.

McDonald Speedee System

Webcast

Time : 11 min

McDonald Speedee System
Course Preview & Inclusions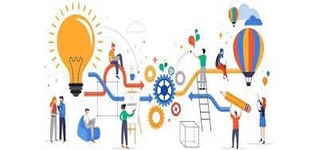 4 hr 0 min

10 learning Resources

Self-paced learning

1 profiling tools

3 hr 40 min of video content

3 supplementary learning resources

Access on Mobile and Laptop
Our Leadership Courses are structured packages which are targeted towards building your leadership abilities.
Add to My Membership Plan
Product once added cannot be removed/replaced.
Do you want to proceed?