Decision Making
Do you want to build decision making skills? This is the perfect course for leaders looking to develop their leadership abilities.

Who will benefit from this course?
You will find this course useful if you are someone in the middle or senior management requiring you to make decisions in ambiguous contexts where the information available is incomplete or insufficient.
What will you learn through this course?
This course will help you understand the dimensions to decision making. You will learn the personal resources you need (characteristics or traits, we refer to them as leadership orientations) to enable you to make effective decisions in the absence of complete information.
Approach to the Course
Decision making especially in volatility, ambiguity, complexity and uncertainty is a function of leadership. Thus, your course will start with offering you an opportunity to review your lens to leadership and provide you alternate perspectives to leadership.
You will be effective in the exercise of leadership based the leadership resources you possess and your ability to apply those resources to suit the situation. We refer to these leadership resources as Leadership Orientations. Orientations are characteristics or traits. In this course you will learn the leadership orientations that have an impact on Decision Making.
The course will help you be self-aware and gain insights on your leadership orientations that have an impact on decision making. Decision Making is a leadership ability that requires combined applying of the leadership orientations learnt.
Developing these leadership orientations and leadership abilities will help you develop skills in effective decision making. This course will help you with your thinking orientation, drawing and managing of perspectives, an understanding of risk, its assessment, management and mitigation and applying these leadership orientations appropriately to enable you to spot opportunities. These come together and when applied appropriately help you in making judgement calls with limited information.
This course will conclude with perspectives and experiences of leaders when engaging with decision making and their approach to it.
How is the learning structured?
This course is designed to help you uncover the dimensions mentioned above by breaking it down to learning units that are bite size and easy to consume. It is structured to help you understand the content, learn its application and reflect on your behaviour relating to it. It offers a structure to skills practice to continue beyond the course as well.
The content is structured for you to absorb, internalise, reflect, be self-aware and practice building skill in that unit of content before proceeding to the next. We recommend you learn by spending time observing, reflecting and drawing deeper insights from your environment and watching others relating to the content as well. As you progress reflect and identify the areas you want to develop and practice skills beyond the course.
Deep involvement in each unit of content before moving to the next will heighten your learning experience of the program.
Learning components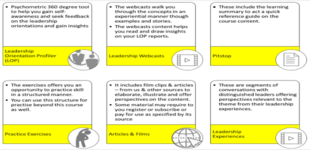 Course content
(Total 7 Sections)
Section 1 (A New Lens to Leadership)
1.

A new lens on Leadership - Part 1

Webcast

Time : 22 min

Leadership - what does it really mean? Due to lack of a clear understanding of Leadership and an exalted meaning attached to it by everyone, people think it is beyond them. At Leadership Centre, we believe Leadership is a journey, a process. Leadership is about taking charge in a context and be accountable to the outcome. This podcast will help you clear the myths around leadership. It introduces you to when is that we exercise leadership. It also brings out the different contexts when we creat

2.

A new lens on Leadership - Part 2

Webcast

Time : 26 min

In the second part of our introductory podcast on leadership, let us learn how you can develop your leadership abilities. Developing leadership abilities are not about working with your style and skill. Leadership abilities are underpinned by your leadership orientations. An orientation is what is characteristic of you and shapes your responses to a context. Look at leadership from the lens of leadership orientations and the need to work on it to build your leadership abilities
Section 2 (Human Thinking Process)
Profiler

Time : 10 min

2.

Human Thinking Process

Webcast

Time : 31 min

In this webcast by Mr. K Ramkumar focuses on the theme of thinking. Watch him share insights based on his experience to help you build your leadership ability.

Supplementary Learning Resource

Time : 3 min

This document contains a highlight of the points of discussion from the thinking session

4.

How to read your Profiler Report

Webcast

Time : 59 min

This webcast guides you and helps you gain clarity to read your Profiler report.
1.

Leadership Orientation - Perspectives

Webcast

Time : 23 min

Can miracles happen? In this podcast we explore how perspectives, while exercising leadership along with trust and power, can create magic.

2.

Concepts on Perspectives

Supplementary Learning Resource

Time : 2 min

This document contains a highlight of the points of discussion from the perspectives session
Section 4 (An Orientation to Risk – Identification, Assessment, Mitigation)
Profiler

Time : 10 min

Webcast

Time : 1 hr 6 min

In this webcast, Mr K Ramkumar is in conversation with Mr R Muralidharan on the importance and meaning of Risk Appetite and taking risks.

3.

Concepts on Risk Appetite

Supplementary Learning Resource

Time : 4 min

This document contains a highlight of the points of discussion from the risk appetite session
Section 5 (Call taking in limited information)
1.

Opportunity sensing and Decision making

Webcast

Time : 21 min

This webcast is for young leaders who want to build on their judgement capabilities. Through this webcast you would get clarity on challenges and process to sense market opportunities and make decisions on the basis of that.

2.

Concepts on Opportunity Sensing and Decision making

Supplementary Learning Resource

Time : 1 min

This document contains a highlight of the points of discussion from the session on opportunity sensing and decision making
Section 6 (Decision Making – All of it comes together)
1.

Leadership Ability - Judgement

Webcast

Time : 29 min

Listen to K Ramkumar speak at length about judgement. Judgement is the ability to make decisions by distilling critical and significant information out of available information, instead of asking for all information.
1.

How I Approach the Toughest Decisions - Barack Obama

Supplementary Learning Resource

Time : 6 min
Course Preview & Inclusions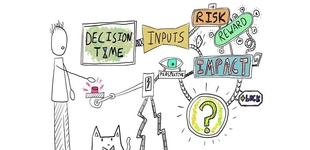 5 hr 13 min

15 learning Resources

Self-paced learning

2 profiling tools

4 hr 37 min of video content

5 supplementary learning resources

Access on Mobile and Laptop
Our Leadership Courses are structured packages which are targeted towards building your leadership abilities.
Add to My Membership Plan
Product once added cannot be removed/replaced.
Do you want to proceed?